Sustainable Palm Oil – a possibility?
I was recently part of a Greenpeace India action in Delhi, asking Procter & Gamble (owner of brands like Olay, Pantene, Head & Shoulders and many more) to commit to no deforestation and usage of only sustainable palm oil. It was a global campaign as volunteers worldwide urged P&G to save the endangered Sumatran tigers […]
2014/05/01 8:53 PM
I was recently part of a Greenpeace India action in Delhi, asking Procter & Gamble (owner of brands like Olay, Pantene, Head & Shoulders and many more) to commit to no deforestation and usage of only sustainable palm oil. It was a global campaign as volunteers worldwide urged P&G to save the endangered Sumatran tigers and orangutans which were at risk due to large-scale deforestation of Indonesian rainforests. This made me want to find out more about palm oil production, usage and how it can be more sustainable.
The ubiquity of palm oil
Palm oil is an important and versatile vegetable oil which is used as a raw material for both food and non-food industries. Your shampoo, your ice cream, your margarine, your lipstick – all contain palm oil. Global production of palm oil has doubled over the last decade. By 2000, palm oil was the most produced and traded vegetable oil, accounting for 40% of all vegetable oils traded internationally. By 2006, the percentage had risen to 65%. Worldwide demand for palm oil is expected to double again by 2020.
About 50 million tons of palm oil are produced every year and that number is certain to only rise. Demand has been driven by yield, which in the case of palm oil, is close to six times more per hectare than canola oil. The annual palm oil consumption is expected to increase from 49 million tons in 2011 to 63 million tons by 2015, and continue to 77 million tons by 2020. Indonesia and Malaysia constitute 85% of the world production. Colombia, Brazil, Nigeria, Liberia, Thailand and Uganda are becoming viable competitors on the global palm oil market.
This growth is driven not only by palm oil's cost effectiveness, but also its multiple applications in the development and production of variety of fats and foods, such as baked goods, condensed and powdered milk, French fries, concentrated foods, and supplements in animal food. Palm oil also reaches into non-edibles such as soaps, detergents, candles, cosmetics, glue, printing inks, lubricants for machinery, and biofuels.
All purpose or all problem oil?
With the rapid growth of the palm oil industry has come the degradation of large tracts of fragile lands. In order to produce oil palms at scale, many plantations have employed destructive slash-and-burn techniques turning forests into neat rows of oil palms, replacing the dynamic ecosystems of the rainforest with the monoculture crop. Damage to ecosystems includes:
The destruction of tropical rain forests to make way for new oil palm production. Some environmental campaigners claim that in 15 years, 98% of the rainforests in Indonesia and Malaysia will be gone unless drastic action towards sustainable palm oil is taken.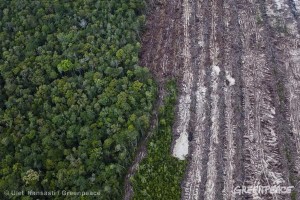 The discharge of palm oil mill effluent which kills aquatic wildlife
The displacement of indigenous people and subsistence farmers
The loss of habitat and subsequent loss of wildlife, with an especially detrimental impact on global orangutan populations. In 1900, there were around 315,000 orangutans. Today, fewer than 50,000 exist in the wild, split into small groups with little long–term chance of survival.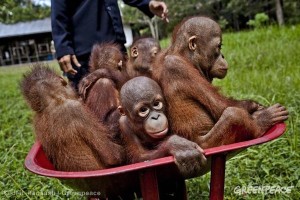 The burning and draining of large tracts of peat lands, which are important absorbers of CO2
Sustainable palm oil
Although the environmental and social impacts of palm oil production have been heavily criticized by a number of stakeholders, predictions of doom and gloom may yet be avoided with the implementation of sustainability practices that are currently underway through concerted efforts of both the for-profit and non-profit sectors.
Creating access to information is a key component of change for many organizations attempting to influence a shift in corporate behavior. For example, in 2009, the WWF produced the Oil Buyers Scorecard, essentially exposing many large-scale palm oil buyers who have claimed eco-conscious purchase methods, yet failed to meet their own standards.
Many large corporations have begun shifting their production and purchasing of palm oil to address advocacy group and consumer concerns. Nestle and Colgate are two of the brands, among few others that have committed to using sustainable palm oil only. And after the global campaign by Greenpeace last month, even P&G made a commitment to 'no deforestation'.
Other sustainability-driven options have surfaced over the past few years, and large-scale industry stakeholders are beginning to implement standards set out by these organisations. The leading goup – The Roundtable on Sustainable Palm (RSPO) – has collaboratively worked towards creating a set of global standards to guide the palm oil industry toward environmentally-friendly production of this crucial crop. The RSPO was founded in 2003 and it is working on many fronts and in many countries. Members of the RSPO and participants in its activities come from a variety of backgrounds, including oil palm growers, manufacturers and retailers of palm oil products, environmental and social NGOs.
Certified sustainable palm oil (CSPO) and palm kernel oil (CSPKO) is produced by palm oil plantations which have been independently audited and found to comply with the globally agreed environmental standards devised by the Roundtable on Sustainable Palm Oil (RSPO). These stringent sustainability criteria relate to social, environmental and economic good practice.
Although the RSPO is the largest organization helping to steward the palm oil industry closer to sustainability, it is also an organization based in large part on voluntary standards. Thus, numerous activist organisations have accused the RSPO of 'green tagging' and have also identified what they see as major loopholes in the principles and criteria set out in the standards created by RSPO. For instance, being a member of the RSPO does not commit you to buying or using CSPO or CSPKO. In turn buying from a member of the RSPO does not mean that you are automatically buying CSPO, CSPKO, or supporting sustainable production.
There is also GreenPalm, a certificate trading program designed to help ensure the sustainable production of palm oil, which looks after implementing standards. GreenPalm serves as a form of 'middle man', helping purchasers of palm oil to buy certification credits to 'offset' their purchases, mainly due to the fact that purchasing directly from a segregated supply of sustainably produced palm oil is often extremely difficult. Each credit purchased represents a premium paid to sustainable producers for a ton of palm oil, helping to ensure and reinforce the sustainability of the supply chain.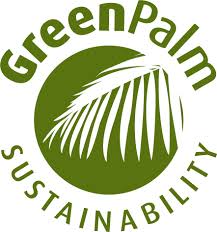 Although these systems are far from perfect, they are evolving tools to help steward palm oil toward more sustainable production. There are alternatives to thrashing of forest land, like wastelands where palm oil can be grown. WWF estimates that there are already 20 million hectares of idle, or abandoned, land in Indonesia alone. This land, formerly forested, then logged and not regenerated, is mostly suitable for oil palm plantations. Oil palm industry expansion can continue by directing plantings to this idle land. We, as consumers need to be aware and must demand that our products do not lead to deforestation because after all it is our rampant demand for products that's fuelling the palm oil demand.