The Vacation Mantra: Cob Building
Oh yes! The "Mantra Edition" is here. Today we have the mantra concerning the hot topic Vacations. Vacations, a boon for the kiddies group while a tough time for the parents and THE EARTH as well. C'mon lets accept the fact, vacations get with them the real time fun, the time for some trips and […]
2014/06/13 12:56 PM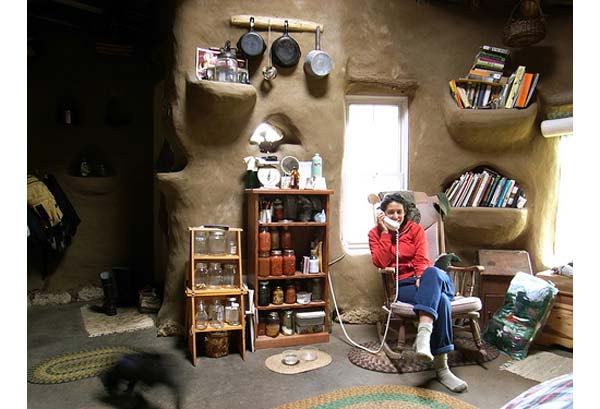 Oh yes! The "Mantra Edition" is here. Today we have the mantra concerning the hot topic Vacations. Vacations, a boon for the kiddies group while a tough time for the parents and THE EARTH as well. C'mon lets accept the fact, vacations get with them the real time fun, the time for some trips and tours. What about the earth? What about the emissions that each of the mode of transport release? More trips and travel means more emissions.
Why not go green and sustainable this summer? And today we have the green mantra for the travelers, the vacation lovers. Go away from the city lights, gadgets, cobwebs of cities and city life. Be an environment lover rather than a gizmo. Spend your vacations with the nature in a cob building, the ones you saw in animated series like Noddy. Far from the city, far from the fields, far from your office, far from the reality, close to nature, close to your family, close to your pets and would then your vacation be a memorable one for all of your loved ones and the earth too.
A piece of advice to the investors, to your acquaintances, to the hotel owners invest in property away from the polluted lands, in a green building, energy efficient and a cost effective building. Don't invest at ecological cost which requires more capital, more specialization using expensive tools and expensive, highly materials extracted and transported long distances.
• Ask your parents to build you a dream house if you promise to be an environment protector, a dream house in the midst of a hill station. A dream house made of cob, where you can design your house with your attractive aesthetic designs and paintings. Take the help of the earth in protecting the earth itself. Spend your vacations in the cob house owned by you and be a proud contributor towards the betterment of earth.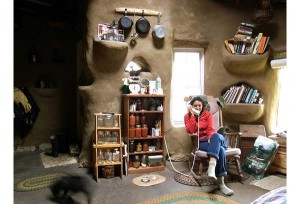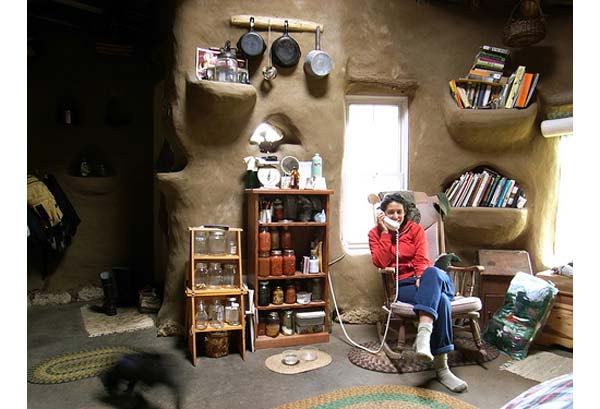 • Hotel owners must provide green services in the midst of a natural landscape, building attractive cob houses that would attract tourists of any kind for an exclusive experience in a house easily warmed or cool, providing proper ventilation and a pure feeling of living in the lap of nature.
What is cob?
Cob, cobb or clom is a natural building material made from sand, clay, water, some kind of fibrous or organic material (straw) and earth. Cob is fireproof, resistant to seismic activity and inexpensive. It can be used to create artistic, sculptural forms and has been revived in recent years by the natural building and sustainability movements.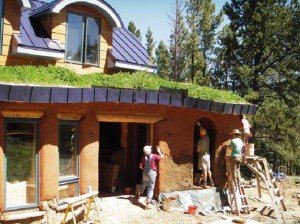 From an ecological standpoint, natural materials have the advantage that they generally don't require much energy to manufacture or even transport them. This savings in energy will likely diminish the amount of greenhouse gases that are emitted and also the amount of fossil fuel consumed. Technology is always behind the scenes in our modern world, and one must not spurn its use when appropriate. One should look to the simpler, natural solutions first, before employing more technological ones. Natural materials come hand in hand with the following benefits:
• Every component (clay, sand, water and straw) is potentially free.
• Every component has little embodied energy.
• These materials are potentially available on site, or locally.
• These building blocks can be used in load-bearing walls, or for other compressive purposes.
• Mud bricks can be "stabilized" with a relatively small amount of Portland cement (or asphalt emulsion) for use in circumstances where a greater degree of durability is required.
• Mud bricks can be produced with relatively unskilled labor.
Primary principle of building a cob house is to place plenty of thermal mass materials on the inside of the house. These are the denser, heavier things, such as adobe, stone, bricks, tile, etc. Thermal mass materials will tend to stabilize the interior temperature of the house, keeping it comfortable most of the time. As one sits next to the wood stove in his/her cozy cob house, a quick fire in the morning warms the cob walls and will often keep the house warm for a day or more. The cob house requires less than a cord of wood per year. Meanwhile, the same modern building requires stripping land of trees and burning trash just to keep from freezing. Some go through as many as 15 cords of wood per year. Cob houses perform well even by modern standards.
Anecdotal evidence and recent testing show cob walls are highly resistant to earthquakes. Unlike cement or adobe, which tends to shake apart in an earthquake lumps of cob are woven together in the building process to form one large mass reinforced by straw fiber. Also, unlike cement, cob is easily repaired with the same material it was built from, and if broken down, there is no waste to be disposed of — only earth and straw that can be returned to the ground or soaked in water and reused to build another room or house.
To add a cherry on top of your beautiful cake, one can also set up a solar panel outside the cob house for certain power needs and then is your cob house a perfect green house.