Action Plan: Project Citizen
Environmental education, Awareness and training plays a significant role in encouraging and enhancing people's participation in activities aimed at conservation, protection and management of the environment, essential for achieving sustainable development. The Ministry, therefore, accords priority for the promotion of non-formal environmental education and creation of awareness among all sections of the society through diverse […]
2014/07/30 5:42 AM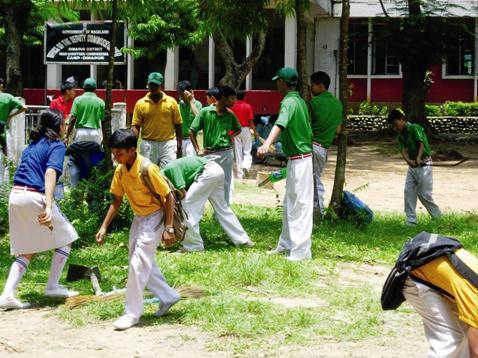 Environmental education, Awareness and training plays a significant role in encouraging and enhancing people's participation in activities aimed at conservation, protection and management of the environment, essential for achieving sustainable development. The Ministry, therefore, accords priority for the promotion of non-formal environmental education and creation of awareness among all sections of the society through diverse activities using traditional and modern media of communication. Some of the major activities undertaken in this regard go somewhat like these:
1) National Environment Awareness Campaigns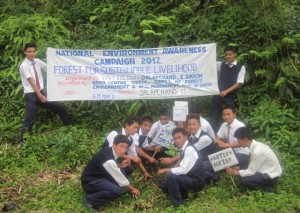 2) Eco Clubs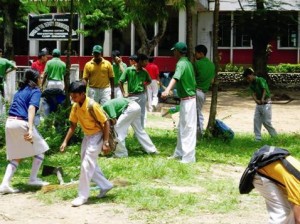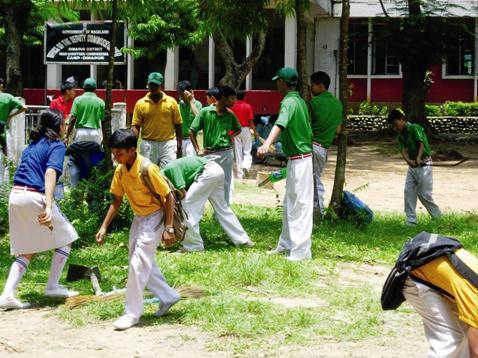 3) Global Learning and Observations to Benefit the Environment (GLOBE)
4) Mass Awareness
5) Centres of Excellence like colleges, universities and other specialised institutes.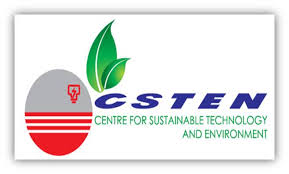 Such are projects and programmes whose main objectives are to educate children about their immediate environment and impart knowledge about the eco systems, their inter-dependence and their need for survival, through visits and demonstrations and to mobilise youngsters by instilling in them the spirit of scientific inquiry into environmental problems and involving them in the efforts of environmental preservation.
A large number of eco clubs have been provided grants in various parts of the country. Keeping in view the potential of this programme in sensitizing the school students, this programme is being intensely covered in each district of the country, however small it is.
Eco Clubs in schools hold competition and Competitive projects like the one that I was a part of: Project citizen.
Project citizen



Project Citizen is a portfolio-based Civic Education Project for students, promoting competent and responsible participation in society. It serves as a Model Performance Assessment Activity, engaging students in monitoring and influencing public policy, while motivating civic participation among members of the community. Project Citizen Students around the country are usually busy, finding public policy solutions to community problems ranging from plastic bags clogging our oceans to smoking in public parks.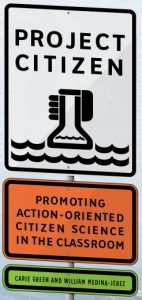 The objective is to persuade students to work collaboratively towards developing an action plan for implementing their policy, while building values inherent to the project- of self-discipline and governance, respect for the rights of other individuals and for the rule of law. This done through a process of critical mindedness, negotiation and compromise will lead to the common good.
Project Citizen and similar projects is the future of this planet. Students at the age of 14, an age of playing with play stations and tabs, start with framing policies on public policy issues, rectifying the planet for a better tomorrow.
Project citizen is divided into some hierarchical order of studying the public issue and then formulating policies and implementation of those policies requires action.
1) As a class project, students work together to identify and study a public policy issue.
2) Study existing policies made by the government so that students can formulate better and new ones apart from the ones already made.
3) Eventually develop policies in addition to the existing ones.
4) Action plans are then made for implementing their own public policy.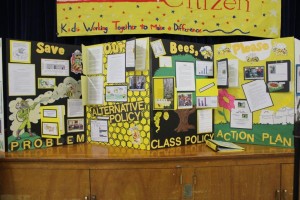 Each group works for months and then when the final showcasing approaches, each team's work is witnessed and the compilation of the work takes place. The final product of the programme is a portfolio displaying each group's work. This portfolio is then presented in a simulated legislative hearing, demonstrating knowledge and understanding of how public policy is formulated and put into practice. Finally, the showcased portfolios are evaluated along with large boards, placards, t-shirts, pamphlets; banners and whichever possible way could the team display their talent and work. During show casing, each member of the team has to speak for one minute on his or her topic and wrapping the whole session with crisp and brief knowledge about the portfolio.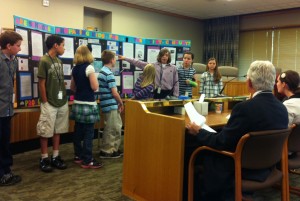 For instance, our topic for the programme was Combat Climate Change. The project then required a detailed study of climate change, its causes, consequences, latest happenings, etc. The other team then studied governmental policies that already existed for handling extreme climate changes and whether they are being implemented or not. The next team then formulated their own policies on how to combat climate change and added on to the existing policies. The action plan team decides how to implement the policies and take them on road so that the public is well aware of the fact that climate change is a dangerous issue risking human life and property in all senses.
With each day passing, we had more and more ideas about how to make the public aware so we designed t-shirts with logos requesting to help us combat climate change. Distributed out pamphlets, organised a "Nukkad Natak" at Dilli Haat, made banners, etc. On the day of the final evaluation, we submitted our portfolio displayed all the banners and every possible work that we could display.
Actions speak better than words. So rightly quoted it is. Why to aware the public though merely talking the hearsay? Act and Show them how to act.