Amusement parks going green!!
Its' hot summer you are about to die in this scorching heat! But you got a solution to ease it by spending leisure and adventurous time in the amusement park!! Imagine if you go in the park and see no water in the pool! Or deserted amusement park won't amuse you for sure. Amusement parks […]
2014/05/31 8:04 AM
Its' hot summer you are about to die in this scorching heat! But you got a solution to ease it by spending leisure and adventurous time in the amusement park!! Imagine if you go in the park and see no water in the pool! Or deserted amusement park won't amuse you for sure. Amusement parks are really fun isn't it? Breath taking rides take you to the extreme level of enjoyment With over 100 million people visiting various family amusement and theme parks in North America each year, recycling and waste is something to be considered 100 to 200 million of gallons of water are used in the amusement parks from where this water comes? Where one part of the world suffering from water crisis and calamities like drought and here places which are created for amusement such a large amount of water is used just for amusement; this thought is very hard to digest by environmentalists!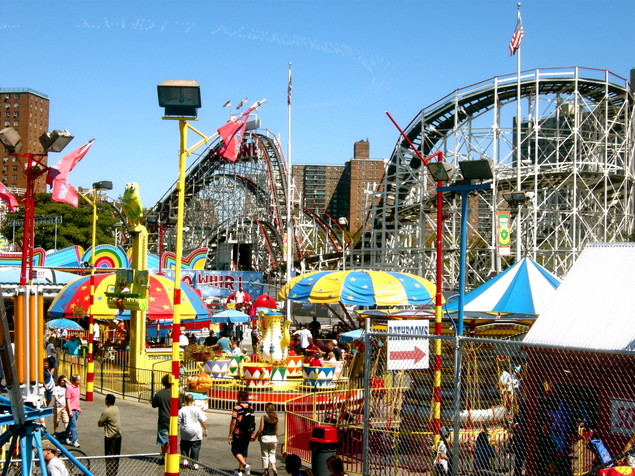 But with the revolutionizing technology, we are able to recycle the waste water for such parks From waste water to waste products everything is recycled and re created! Besides trash, the energy and lights associated with amusement parks as well as parking and hotels associated with these family entertainment centers and it is time to consider an eco-friendly initiative that keeps the amusement park or family fun establishment leaving a green footprint in its wake No matter how well amusement parks are maintained, it seems like every few feet is a trashcan filled with paper, plastic bottles and other recyclable materials
Recycling at large venues of is important, especially amusement parks that regularly host large crowds and often times weddings and other special events Recycling is something that should be on continuous basis and not for short time Installation of automatic lights, LEDs or compact fluorescent bulbs to maximize energy costs Low flow toilets which saves millions of water Recycling does not limited for conserving and utilizing resources properly but also helps economically to the parks. The resources like water are very precious to us; usage of it should be done very prudently. But for preserving precious material we cannot and would never want to lose the amusement of amusement parks!! So with the changing time there is need to alter the level of utilizing the stereo type usage of resources and reusing the waste we can achieve both targets of present need of this era in which living to save the environment without compromising our pleasures and needs as well.
Big amusement park player, like the Walt Disney Company, has its own environmental policy that focuses on minimizing waste, conserving water and energy, reducing greenhouse gas emissions and protecting local ecosystems. We cannot just only consider only big amusement parks like Walt Disney. The Walt Disney cleaning policy was launched aiming to minimize the environmental impact of its' cleaning products, including their toxicity. It is made possible by using chemicals that both protect health and embody desirable environmental properties. Not only they tried to conseve environment but also set a goal to minimize the amount of chemicals needed to accomplish cleaning tasks.
but there are many parks which internationally are recognized as greenest or eco friendly for instance, Tivoli gardens in Copenhagen is apparently one of the 'greenest' and 'oldest' amusement park in the world. The parks like 'Six flag' uses bio fuel for its vehicles and LED lights whenever possible. It also has an impressive recycling program which keeps around 1.2 million plastic cups out of landfills each year, uses environmentally friendly cleaning products, utilizes local, seasonal and vegetarian ingredients eateries; and even has a wind turbine that the park hopes will one day be able to power the entire space.
Along with Walt Disney, Six Flag, Wonderia located near Bengaluru spanning around 82 acres of land. Marching towards revolutionized the deserted areas into green, the company has planted more than 2000 trees in order to develop natural shade in the park. The park has also an extensive rain water harvesting system that collects even roof rain water for drinking purposes. The raon water is collected in various tanks depending on the quality and intended usage, and has a combined capacity collect over 20 million liters. Wonderia also well equipped with solar energy which is extensively used to heat water in pools and kitchen.
As we consider all the aspects of the society like from industries to houses to cars to people to follow green living we cannot ignore amusement parks which are also part of consideration. They are significant because people have demand for it and as humans intervene there is creation of waste if not using available resources prudently. In this century of crisis, we cannot afford to waste which everyone and each of us should know, realize and not just knowing and realizing will save our precious resources but our actions will.
We have such wonderful examples of parks which are taking steps to conserve to save environment. Yes, it is true that economy is significant factor initially it may be difficult and not all parks can afford such technologies. But we can be hopeful that we can by being united and each of us make a bit effort!