Homemade Eco-Friendly Items that Make Great Gifts
Buying a present for a loved one is not always an easy job to do. You spend hours to find that perfect gift. Be it an anniversary, a birthday or a wedding, gifts are indispensable in all of them. You tend to spend loads of money on a present, but have you ever given a […]
2014/04/25 5:53 AM
Buying a present for a loved one is not always an easy job to do. You spend hours to find that perfect gift. Be it an anniversary, a birthday or a wedding, gifts are indispensable in all of them. You tend to spend loads of money on a present, but have you ever given a thought to how your gifts would affect the environment? If you have not, then you are like ninety nine percent of the population. Expensive gadgets like mobile phones or tabs may apparently seem like a good gift, but the reality is far from it.
Most of our gifts have to do with plastic. They are non biodegradable and ultimately harm the environment immensely. Electronic gadgets usually contain toxic products like lead and mercury which also damage the environment. So why not make a better choice from now on? Make your own eco-friendly gifts at home. Even if you can't make them yourself, buy them from shops that sell organic biodegradable products.
Here are a few reasons why it is better to make your own eco-friendly gifts at home-
They are cheap compared to the items sold in shops. Most of the raw materials that you need to make these gifts are easily available and don't cost much.
They are aesthetic and beautiful.
They hold a sentimental value. A gift that you have made yourself would always hold a special place in the heart of the person you are giving it to. It will definitely be a special and memorable gift.
Most importantly, it will benefit the environment. You can do your part in saving the environment in your own little way. This also inspires others to follow you.
Have the above stated reasons convinced you? If yes, then start making your very own eco-friendly gifts. Surprise your loved one with a special heart warming present. Here are a few ideas to get you started-
Instead of buying it from the store, make a unique card on your own. Evoke the creative side in you and get started. Decorate the card as you want to, with sparkles and coloured pens. Write a beautiful message inside. You can even paste pictures to make it memorable. To save paper, use cardboard sheets that may be lying around in your home. If there is some unused paper in the house, that can also be used.
Beautifully decorated earthen pots look artistic as well as aesthetic. You need not have to make an earthen pot from scratch. Buy one from a shop. Paint it with any eco-friendly colour of your choice. You can use vegetable dye or even eco-friendly fabric paint. The decoration on the pot is what sets it apart. Be as creative as possible. Use decorative items like beads and buttons to brighten it up. Use bold bright colours to make it attractive. The pot can be kept as a show-piece or you can even gift an earthen vase to keep flowers in.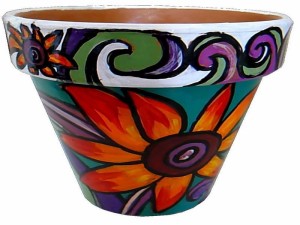 Paper mash is very easy to make. All you need is some flour, water and old newspapers. The reason why it is great to use is because you can mould it into any shape you like and after a while it hardens while retaining the shape. Beautiful bowls for decoration or jewellery boxes can be made with paper mash. You can paint it after it dries to make it colourful.
Handkerchiefs or pillow covers
Make interesting pillow covers with organic cloth like jute, cotton or silk. Buy the materials from shops and stitch them yourself. You can stitch beautiful designs on them or even paint them with fabric paint. If pillow covers seem too much, you can always go for smaller items like handkerchiefs. To keep it eco-friendly, use only organic materials.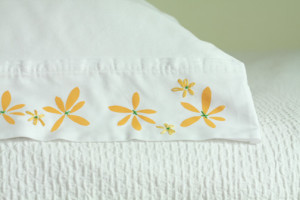 If you are being environmentally conscious, go all out. Make paper gift bags at home. All you need is a scissor, glue and decorative items. If you don't know how to make them, the internet is always there to help you. Follow step by step guidelines and it'll be done in no time. Make four holes at the top to attach handles. Don't forget to decorate.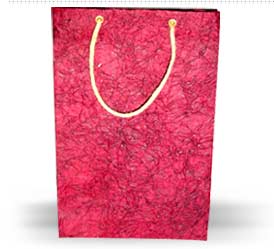 A woman always loves jewellery, especially if it is handmade. Use materials like recycled glass or paper beads to make earrings or bracelets. Moreover, wooden beads can also be used to create this type of jewellery. Make a colourful beaded necklace and matching earrings to go with it.
You may have old glass bottles lying around the house. Instead of selling them at a meagre price, put them to good use. Tie them up together and fit tiny bulbs inside. Voila! You have your very own chandelier. Paint the bottles to make them eye catching.
The motto here is to be different and creative, saving the environment at the same time. So put your thinking cap on and think of new innovative ways to make eco-friendly items at home. These items do make great gifts, but you can make them for yourself as well.