Jute- a better alternative to plastic
Plastic has become an inevitable part of our lives. No matter how much we want to get rid of it, it still occupies a monumental place on the earth. Made from non bio-degradable polymers or PP, plastic does not break down easily. It takes hundreds of years to decompose one piece of plastic. With a […]
2014/05/07 9:34 AM
Plastic has become an inevitable part of our lives. No matter how much we want to get rid of it, it still occupies a monumental place on the earth. Made from non bio-degradable polymers or PP, plastic does not break down easily. It takes hundreds of years to decompose one piece of plastic. With a bit of awareness seeping in the masses, plastic has been banned in certain countries. If not banned, taxes have been levied on the use of plastic. But this hasn't stopped its use among people. Some big departmental stores have started charging on plastic bags which has forced customers to bring carry bags from home. This initiative has gone a long way in reducing the use of plastic but has not abolished its use completely. People still depend a lot on plastic.

Think of all the items that you use daily- in your home and office. How many of them are plastic? There are at least a handful of plastic items that we use in our everyday life. With every household using plastic bottle, cups, brushes and bags every day, can you imagine the amount of plastic being accumulated on earth? Because it does not break down easily, plastic can lead to the choking of drains, causing national disasters like the flood that took place in Mumbai, India a few years back. Moreover plastic ends up in the landfill and generates harmful chemicals in the soil. Plastic is also destroying the marine ecosystem as it gets dumped in the oceans each day.
So what is the solution? People have been coming up with eco-friendly alternatives to plastic. Paper, jute, cloth, glass are some eco-friendly alternatives. Using paper may not seem like a good idea, as trees get cut down in the process, but you can use recycled paper. Instead of putting them in the dumpster, paper can be re-used to make bags and cups. Apart from paper, the most popular alternative is jute. Jute is the most co-friendly biodegradable fibre available on this earth. It is grown in many countries, its cost of production is less and the end products are useful and stylish. Jute may not be as cheap as plastic, but it is not very expensive as well. The best thing about jute is that it is a very sturdy fibre, not likely to tear easily. It can be reused quite a lot, even more than cloth. Paper on the other hand is not very reusable.
In India, for instance, jute is cultivated in more than five states. So as more jute is used, the country's economy is strengthened further. Many farmers depend on jute as their means of income. So with every jute product you buy, you are stabilizing and increasing the income of the farmers. Not only are the farmers, jute craftsmen also getting benefitted by your endeavour. To help the craftsmen, states have been organizing jute fairs in countries like India where many jute items are sold at a reasonable price. Jute bags, mobile covers, carpets, sandals, pencil bags, mats, wall hangings and handicrafts are some jute products that can be used as alternatives to plastic. These jute fairs are organized almost every year and are attracting a lot of customers.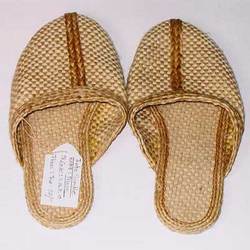 The many benefits of jute have already been discussed. It is durable, cheap and biodegradable. But it is good for our health also. Jute fibre actually absorbs more carbon dioxide than a tree. So by opting for jute you are helping yourself and the environment. Some of you may argue that jute may not be affordable for small scale shopkeepers. But you have to think long term. Plastic or polyether bags are used once and they cost around fifty paisa. On the other hand jute bags cost around twenty rupees but they are reusable, for more than a year. So in a way you are gaining rather than losing out.
The time has come to throw away the plastic items in your home. Plastic bags should be the first thing on your list. Replace them with eco-friendly jute bags and make a difference to the environment. Another good thing about jute bags now is that you don't have to compromise on style to care of the environment. Many shops and online websites sell beautiful jute products that look trendy and stylish. Available in different hues of blue, red, green and other bright colours, jute bags come in myriad designs and logos. Some are even hand painted. They not only look beautiful but are also one of a kind. Apart from bags, shops also sell other popular jute items that can replace plastic in no time. Plastic mats, pencil bags and folders are some other useful items that you can replace with jute.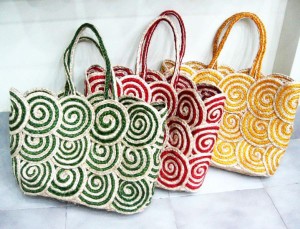 With so many initiatives being taken by the government, it is our duty as responsible citizens to help the government in its endeavour. Using jute may not be a magical solution, but it will help reduce the use of plastic further. It is only through repeated initiatives such as this that we can hope for a plastic-free tomorrow. Choose jute from now on and be a part of the change.