Summer Fruit Bonanza
It is really not a debatable issue that in India the best things about summer include only a handful of things, our vacations and summer fruits being the race winners for favourite positions. Right from big, juicy watermelons (the colour itself calls out to you!) to oranges and grapes and cherries, plums, mangoes, lemon and […]
2014/04/08 6:19 AM
It is really not a debatable issue that in India the best things about summer include only a handful of things, our vacations and summer fruits being the race winners for favourite positions. Right from big, juicy watermelons (the colour itself calls out to you!) to oranges and grapes and cherries, plums, mangoes, lemon and pineapples just to name a few, these fruits are a part of the perfect summer diet. Their high nutritional value is simply an add-on!
The glaring summer heat this year has been a reason for many a health related problems including dehydration, exhaustion, cramps, sweating and that is just to name  a few. In fact, I clearly recall reading in the papers today that this summer heat has been known to decrease energy levels in children and adults alike. So to prevent ourselves from getting fried under this scorching heat and setting our energy levels ablaze, here are a series of quick, instant and easy to make recipes to save your crying throat and burning oesophagus.
This summer, there are simply some fruits and the amazing stuff you can prepare with them to keep your energy quotient always high and that is keeping your pocket and precious time in consideration (and yes! our limited cooking abilities too) that you simply can't ignore.
1. Watermelon Bellini: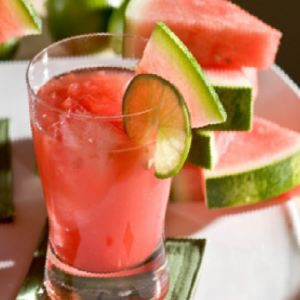 I know it sounds like some really expensive, extremely high up do kind of a thing but this has to be one of the most easiest things to prepare this summer. Even the ones with catastrophic cooking abilities can manage this without causing too much damage. As the name suggests, the main ingredient includes watermelon. Now watermelon is known for having high water content and an element called lycopene which helps in preventing sun damage to the skin. For this cool refreshing drink, all you will need is:
1 lime
2-3 spoons of sugar
3 cups of frozen seedless watermelon
Pinch of salt
One cup sparkling cider or soda
Cut a lime into four equal wedges and using one of the wedge rub the circumference of your glass. Dip the rim of your glass in coarse sugar to coat. Process the frozen water melon, one cup sparkling cider or soda, sugar, salt and 3-4 table spoon of lime in a blender until smooth. Serve it in your already prepared glass. You can add additional watermelon pieces on the top to garnish if needed.
2. Pineapple sorbet: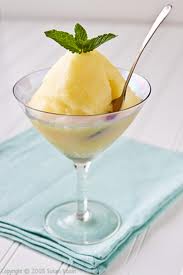 Remember the good old joke, the pineapple walks into the freezer. This seems like the same story and what better way to cut down the summer heat than this delicious smooth sorbet that takes minutes to prepare is an ideal heaven for the calorie conscious too. Pineapple contains anti-inflammatory properties and an enzyme called bromelian which makes it easier for digestion and an ideal summer fruit. The following list of ingredients will be necessary:
1 pineapple (peeled and cored)
A cup of sugar
Lime juice
Mint leaves
Cut pineapple into 2-inch pieces and place it along with the lemon juice in a food processor and process until smooth. Add sugar and keep grinding until it forms a smooth thick paste and the sugar is all dissolved. Now put it in a metal bowl and leave it in the freezer for 3-4 hours until it is all firm. While serving take it out and set it aside for 10 minutes, whisk the desired portion again and garnish with fresh mint leaves.
3. Ginger-grape juice: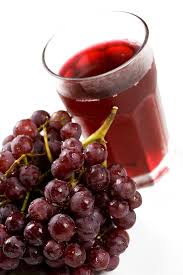 Sounds easy and fitting? It is indeed! Ginger zest that will serves as an important stimulant for absorption of essential nutrients and reduce cramps and grapes serve as blood cleansers satiating your hunger and quenching your thirst simultaneously.
All you need for this one is:
2 cups of grapes
Ginger zest
1 lemon
Salt
Sugar
Water
Wash the grapes separating it from its stalk and adding ginger zest to the same grind it in the juicer or your regular mixer until smooth. Now strain your prepared paste through a strainer and keep adding water to fasten the process. Mix sugar and salt as needed and give it a firm stir. Squeeze in the lemon while serving and add as many ice cubes as you want. Ta-da! Your ginger-grape juice!
4. Plum ice cream: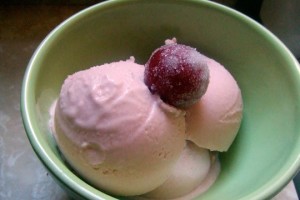 Quite stirring, isn't it? But it is one of the best ice creams you have ever tasted and the richness of the colour and fine fibres help digestion. Also in built is the high nutritional value of vitamin C which helps in prevention of contagious diseases and strengthens your immune system too! For a simple ready at home plum ice cream you will need the following:
8-10 plums
½ cup of water
A cup of powdered sugar
1 cup heavy cream
200 grams plain yogurt
1 table spoon vanilla extract
Cut the plums into 6-8 pieces each and place them a saucepan along with water on medium flame. Put the lid on and keep cooking and stirring occasionally until the plums are tender (8 minutes approx.). Now add in the sugar and keep stirring till all the sugar is dissolved and let it cool to room temperature. Whip the cream before mixing it with the plum puree and yogurt to ensure you get more air in the mixture. Put all of it in a container and cover it with a lid. Leave it to freeze wile continuously checking it with a fork every 30 minutes until solid.
These few delicious, mouth watering yet high in nutrition summer recipes including all the summer fruits are a must try this year. It is cool refreshing and something new to save your burning soul from the heat. Along with these, there are many more fruits that are available and many more interesting things that can be made from them. So this summer, go on a healthy eating and drinking spree! Hope you enjoyed them!