Whaling in Antarctic
Weighing up to 80 tons and almost twice the length of a school bus, the massive fin whale known as the greyhound of the sea for its swimming speed was the victim of decades of commercial slaughter that killed them by the tens of thousands each year. International cooperation on whaling regulation began in 1931 […]
2014/05/09 7:39 AM
Weighing up to 80 tons and almost twice the length of a school bus, the massive fin whale known as the greyhound of the sea for its swimming speed was the victim of decades of commercial slaughter that killed them by the tens of thousands each year.
International cooperation on whaling regulation began in 1931 and culminated in the signing of the International Convention for the Regulation of Whaling (ICRW) in 1946. Its aim is to provide for the proper conservation of whale stocks and thus make possible the orderly development of the whaling industry. The International Whaling Commission (IWC) was set up under the ICRW to decide hunting quotas and other relevant matters based on the findings of its Scientific Committee. Non-member countries are not bound by its regulations and conduct their own management programs.
Whale oil is little used today and modern commercial whaling is done for food. The primary species hunted are the common minke whale and Antarctic minke whale, two of the smallest species of baleen whales. Recent scientific surveys estimate a population of 103,000 in the north-east Atlantic. With respect to the populations of Antarctic minke whales, as of January 2010, the IWC states that it is "unable to provide reliable estimates at the present time" and that a "major review is under way by the Scientific Committee."
Whaling has been going on for hundreds of years, but it wasn't until about 100 years ago that the first whaling station was established in Antarctica. At first, whaling there took a few hundreds of whales a year. But within a decade, advances in shipbuilding and the invention of the harpoon cannon drove the death toll into the thousands. The history of man's killing of these giant creatures is a bloody tale of persecution, greed, and stupidity.
By the mid-1920s, the arrival of British and Norwegian factory ships pushed the slaughter still higher. And by the mid-1930s, the waters surrounding the Antarctic had become an international whale-killing field. Whaling fleets from the U.K., the U.S., Argentina, Denmark, Japan, Norway, the Netherlands, Russia, and Germany hunted with explosive harpoons and sent whale populations plummeting. Many species have been pushed toward the brink of extinction. Blue whales once numbered about 275,000; there are now fewer than 5,000 remaining.
During the last 2 centuries, humpback whales have been hunted intensively, especially in the southern hemisphere, where it is estimated that populations were reduced to a few percent of their pre-exploitation abundance
In 1946, the International Whaling Commission recognized that "…it is essential to protect all species from over-fishing." Nevertheless, the industry had too much power for any meaningful restrictions until 1965, when the IWC banned the catching of blue whales in the Antarctic. Some whalers moved to smaller species; others cheated.
Some countries stopped whaling in the Antarctic, but Russia, Japan, and other countries continued the hunt. Japan takes a deadly toll on the world's whale population. Japan gets around whaling limits by calling its catch "scientific." A fire in the Japanese whaling-factory ship 'Nisshin Maru' put an early end to Japan's 2007 Antarctic whaling hunt. But that ship will likely be repaired, probably in time to begin whaling in the North Pacific later this year.
According to the Australian government, Japan killed more than 6,500 Antarctic minke whales during the 18 years it was conducting "research" on the whales, though there are ample non-lethal methods for learning the same things. Japan justifies its continuing depletion of these magnificent cetaceans on economic grounds, though few Japanese have a taste for whale meat and much of the butchered flesh from Japanese hunts winds up being stored in freezers as there is insufficient market demand. In recent years, stocks of whale meat have remained unsold, with almost 4,600 tonnes stored in port freezers at the end of 2012, according to Japanese government statistics.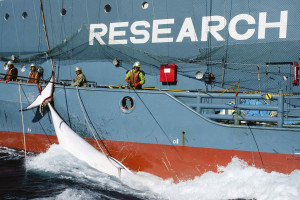 One of the justifications Japan and other whaling nations cite to justify the hunt is that "whales eat too many fish" and must be controlled as part of marine ecosystem management. This is simply untrue. Many whales don't eat fish at all; they eat krill. Of the thousands of whales cut open between 1987 and 2005, the overwhelming majority had not a single fish in their stomachs. A total of less than 300 pounds of fish was found in all the whales in all those years of "research".
Due to the proximity to Antarctica, the government of Australia has been particularly vocal in its opposition to Japan's whaling activity in the Southern Pacific. In 1994, Australia claimed a 200-nautical-mile (370 km) exclusive economic zone (EEZ) around the Australian Antarctic Territory, which also includes a southerly portion of the IWC Southern Ocean Whale Sanctuary. In December 2007, the Rudd government announced plans to monitor Japanese whalers about to enter Australian waters in order to gather evidence for a possible international legal challenge and on January 8, 2008 the Australian government sent the Australian customs vessel 'Oceanic Viking' on a 20-day surveillance mission to track and monitor the fleet. On February 7, 2008, the Australian government released photographs of the ICR harpoon ship 'Yushin Maru' killing several different whales, and a mother whale and her 1-year-old calf being taken on board the 'Nisshin Maru' for processing.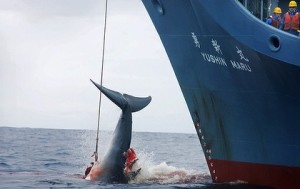 In late 2009, the Prime Minister of Australia restated official objections to Japan's whaling programs and threatened to take legal action through international courts. "We, if we cannot resolve this matter diplomatically, will take international legal action. I'm serious about it, I would prefer to deal with it diplomatically, but if we cannot get there, that's the alternative course of action." – Australian PM Kevin Rudd, 2009
This is where the heroes step in – The Sea Shepherds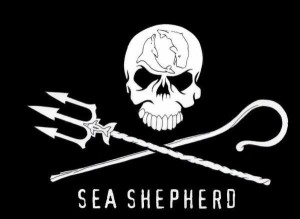 The Sea Shepherd Conservation Society (SSCS) is a non-profit, marine conservation organization based in Friday Harbor on San Juan Island, Washington in the United States. Sea Shepherd uses direct action tactics to protect marine life. Sea Shepherd claims that their aggressive actions are necessary as the international community has shown itself unwilling or unable to stop species-endangering whaling and fishing practices. The group has a strong focus on public relations to spread its message via the media. In 2008, Animal Planet began filming the weekly series "Whale Wars" based on the group's encounters with the Japanese whaling fleet in the Southern Ocean, a development which brought the group much publicity. Sea Shepherd has received support for its tactics against fishing, whaling, and seal hunting from many celebrities, such as musicians and TV personalities.
 Sea Shepherd currently operates the vessels MY Steve Irwin, the MY Bob Barker, the MY Sam Simon and the MV Brigitte Bardot. Operations have included scuttling and disabling whaling vessels at harbor, shining laser light into the eyes of whalers, throwing bottles of foul-smelling butyric acid onto vessels at sea, boarding of whaling vessels while at sea, and seizure and destruction of drift nets at sea. According to its mission statement, Sea Shepherd Conservation Society "uses innovative direct-action tactics to investigate, document, and take action when necessary to expose and confront illegal activities on the high seas". Those actions have included scuttling and disabling commercial whaling vessels at harbor, using limpet mines to blow holes in ship hulls, ramming other vessels, throwing glass bottles of butyric acid on the decks of vessels at sea, boarding of whaling vessels while at sea, and seizure and destruction of drift nets at sea. As of 2009, Paul Watson has said that the organization has sunk ten whaling ships while also destroying millions of dollars worth of equipment. Their practice of attacking and sinking other ships has led to reports of injuries to other sailors as well as the Sea Shepherd crew, including concussions and complications from chemical attacks. Watson considers the actions of Sea Shepherd to be against criminal operations and has called the group an anti-poaching organization. Critics claim that Sea Shepherd's actions constitute violations of international law, while Watson has stated that Sea Shepherd believes that their actions constitute an attempt to enforce international conservation laws and international maritime law under the World Charter for Nature adopted by the United Nations.
In February 2011, Sea Shepherd Conservation Society caused Japan to call off annual whaling in Antarctic waters. Japan's Fisheries Agency announced on April 12, 2010 that the whaling fleet had caught about half of the 935 whales it has hoped to catch during the 2009–2010 whaling research season as a result of obstruction by Sea Shepherd Conservation Society protest operations. The whalers harvested 506 southern minke whales and one fin whale. 
Japan told to halt Antarctic whaling by international court
The International Court of Justice has ordered a temporary halt to Japan's annual slaughter of whales in the Southern Ocean after concluding that the hunts are not, as Japan claims, conducted for scientific research.The UN court's decision, by a 12-4 majority among a panel of judges, casts serious doubt over the long-term future of the jewel in the crown of Japan's controversial whaling programme.
It also marks a dramatic victory for the Australian government, whose four-year campaign to ban the hunts rested on whether it could convince the court that Japan was using scientific research as a cover for commercial whaling. The news was applauded and celebrated by Sea Shepherd Conservation Society USA and Sea Shepherd Australia, both of which have directly intervened against Japanese whalers in the Southern Ocean.
The latest developments indicate that Japan is set to go ahead with some of its whaling activities even though a recent international court ruling ordered the country to end its whale hunt in the Antarctic. The Japanese fisheries ministry announced last week it would still proceed with a smaller research program in the north west Pacific.
Sea Shepherd Conservation Society's founder Captain Paul Watson was skeptical the revised plan reflected a sincere attempt by Japan to ensure the whale hunt produced valuable research."Despite the moratorium on commercial whaling, Japan has continued to claim the lives of thousands of the gentle giants of the sea in a place that should be their safe haven," said Sea Shepherd Founder, Captain Paul Watson. "Sea Shepherd and I, along with millions of concerned people around the world, certainly hope that Japan will honor this ruling by the international court and leave the whales in peace."
Sea Shepherd Global will have the ships prepared to return to the Southern Ocean in December 2014 should Japan choose to ignore this ruling. If the Japanese whaling fleet returns, Sea Shepherd crew will be there to uphold this ruling against the pirate whalers of Japan.