Conquer heat the green way
Every summer, as the mercury begins to rise, temperatures rise and tempers spiral out of control, different people look for different ways to chill off. For most, this would just involve hanging up their boots and relaxing with their families in the familiar surroundings of their air conditioned rooms. Relaxing, that is, till the end […]
2014/06/20 6:39 PM
Every summer, as the mercury begins to rise, temperatures rise and tempers spiral out of control, different people look for different ways to chill off. For most, this would just involve hanging up their boots and relaxing with their families in the familiar surroundings of their air conditioned rooms. Relaxing, that is, till the end of the month when the electricity bill comes and causes a mini heart attack. However, most people just feel about that for a few minutes, hours, if they are a little on the short tempered side and take it out their families, as if they are the innocent victim who has to pay for what everyone else enjoyed, but revert to the same 'cooling' methods again.
The thing is, it does not have to be so bad all the time. Your temper, blood pressure and what not, need not be spiked every month as you see your bills. All one has to do is to find ways to beat the heat without using energy to do so. Fortunately, there are tons of ways to do this. For all these ways, the bottom line is to 'Go Green'!
The most simplest (to do a Shakespeare)thing to do to keep the temperature of your down is to sprinkle water on your roof (if your house is flat roofed).
The logic behind this method is that you're the water that is sprinkled will absorb heat and evaporate. There is a threshold heat called the latent heat of vaporization which the water absorbs to change its phase into vapor. This is supplied in part from the heat of the sun, but the rest of it is absorbed from the house below through the roof. Thus, the heat inside decreases by a considerable amount. This kind of sprinkling of water can be done periodically to keep the temperature of the house down to a tolerable value. Some water that is sprinkled percolates through pores in the roofs in houses that have not been built too recently. This water absorbs most of its heat required from the house. This heat is sourced from the heat that generated in the house. Now, it is not practical to keep going up to the roof and sprinkling water every now and then. Well, one can actually do it if one is obese. An excellent way to lose weight, that. But since we are all inherently lazy, a better idea would be to set up some kind of a system that sprinkles water in a pre-programmed manner. This sounds expensive, but is actually very simple to implement. All it requires is a timer IC, which is like twenty five rupees or so according to Indian currency and a sprinkler set up. Thus, you not only save the money that you would have spent by using an air conditioner, but also contribute towards saving the planet by saving energy everyday. Moreover, the heat released into the atmosphere by the A/C is prevented. This is a two-fold way to protect the environment.
The next idea to implement is not on your home, but on yourself.
One sure shot way to beat the heat is not by cooling the place of your stay, but yourself. Chill your body enough and you will not feel even a smidgen of the heat that rages on outside. A lot of the people do this by drinking chilled beverages and eating ice creams, but these take up a lot of energy to make and process, while at the same time release harmful gases into the atmosphere and discharge chemicals into water bodies while being made. The waste material from the making of such products are major environmental pollutants.
My question is, why go for all these artificial products when nature gives you an abundance of choices? Most of the fruit juices and beverages claim to 'capture the real essence' of some fruit or the other. I ask again, why not go for the real thing instead of a wannabe alternative? Why not just eat the fruits/ vegetables that the artificial products claim to emulate? They have numerous benefits!
1. Fruits that are best for cooling the body are those with a high water content. These, more often than not, also have a high percentage of essential nutrients and anti-oxidants and are an awesome way to beat the heat. These include grapes, apples, pears, peaches, berries, dragon fruit and star fruit, but especially watermelon, cantaloupe and honeydew melon as well as citrus fruits like oranges.
2. Fruits can be incorporated into your diet in so many different ways. Simply toss them into a summery salad, whiz them with milk or yogurt for a healthy smoothie or eat them raw for a mid-morning snack.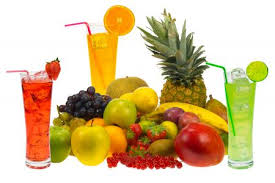 It's not just fruits which can help you beat down the rage of the heat waves.
3. There are plenty of vegetables as well which can really chill your body. The best example of this is the cucumber. This chilled out veggie not only lowers your body heat, but also gives you a boost of energy to pass your day in high spirits.
4. Radishes also go a great way in preventing the heat up of your body. Mint is also commonly known to cool down your body, though that will not exactly count as a vegetable. There are many more such examples. The best part of these is that in most cases, you need not even spend time cooking this stuff. You can eat them raw. This also saves you the additional trouble of spending time in the kitchen in the sweltering heat.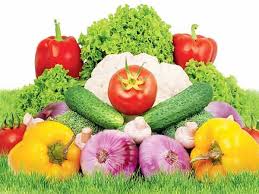 So, to sum up, eating green goes a long way in helping you heat up the battle against the Sun's fury and eventually win it. All this, with absolutely no effect on the environment. This also nourishes your body in ways uncountable. The question then is not why, but why not?!