The best green hotels and resorts in the world
When you decide to go green, there are several ways of doing that. Of course start from making your home green to choosing green brands for your lifestyle needs. But there is also a fun way of doing this where you don't need to really think about what you do. You just need to enjoy […]
2014/07/05 11:08 AM
When you decide to go green, there are several ways of doing that. Of course start from making your home green to choosing green brands for your lifestyle needs. But there is also a fun way of doing this where you don't need to really think about what you do. You just need to enjoy leisurely but still earn green points for yourself and help the nature. Eco tourism has grown exponentially due change in the mindset of people.  People today are adapting a sustainable lifestyle and they want to make appositive impact on the society and nature in every possible way. Eco tourism is one of the easiest and fun ways of cutting your carbon emission. Next time when you go to a holiday destination, choose one of these sustainable hotels for your stay and reduce your impact on mother Earth.
White pod in Switzerland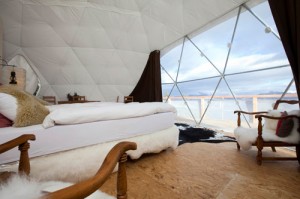 Located in the beautiful Alps mountain range of Switzerland, this hotel offers a real pristine experience. The facilities you get here are minimalistic to reduce the impact on nature. Tourists are provided with small pods which are comfortable but use very less resources, thereby reducing your overall impact on nature.
Bungalows of Nuli Sapi
The setup of these bungalows allows you to get close to nature with the comfort of home. There are plenty of things you can do here along with getting mesmerized with the pristine surroundings. You can go for trekking with local people, investigate neighboring islands on a boat, or learn about the local culture and cuisines by visiting nearby villages.
Saffire Freycinet in Coles Bay, Tasmania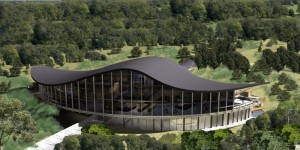 The efforts made by this hotel towards sustainability are really commendable. They have revived an old caravan park by building the hotel there and have planted 30,000 native plants. They use minimal lighting in the night and conserve water through rainwater harvesting. They buy raw materials for their kitchen from local vendors.
Chole Island's Chole Mjini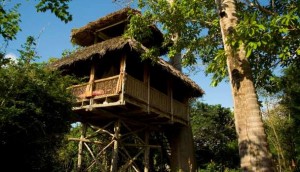 This lodge has achieved incredible feats towards sustainability and society. It has an eco friendly design which makes you feel closer to nature. But the best part is the efforts it has put for the development of natives. The lodge provides jobs to the local population and funds local schools and hospitals. You can witness it if you take a walk to the nearby village. It is located in the Mafia Archipelago along the coast of Tanzania.
Proximity Hotel of England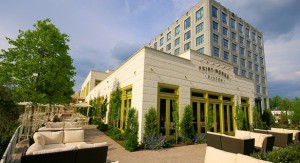 Proximity hotel is famous for its green practices. It follows more than 70 green practices including installation of solar panels and rainwater harvesting for which it has been awarded several times. It is difficult to find a better example of luxury with sustainability. It is located in Greensboro, N.C.
Park Hyatt of Hadahaa, Maldives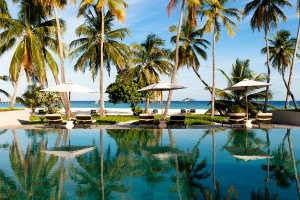 Many people will be amazed to see the name of Park Hyatt in this list. This chain of luxury hotels is known for lavishness, comfort and luxury. But Park Hyatt in Hadahaa is a unique blend of comfort, luxury and sustainability. The hotel is built over water, away from any inhabited place. It follows the principles of sustainability set by U.N., yet does not compromise with quality and luxury.
Mandarin Oriental Hotel in Las Vegas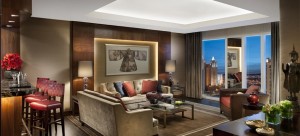 How could we find a sustainable hotel in a lavish city like Las Vegas? Well, the answer is Mandarin Oriental hotel. This hotel does all it could to minimize its impact and promote sustainability. It uses toxin free paint and its architecture helps the rooms gain a lot of natural light. Solar panels make sure that most of the power requirements are met through sustainable source of energy. Its restaurant has adopted a sustainable habit by not serving farmed fishes.
Lefay Resort and Spa Lago di Garda in Italy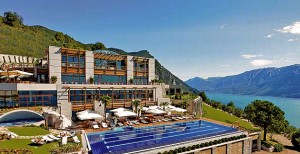 Situated in Gargnano, Italy, this resort is a fine example of beauty with sustainability. It has been built on a beautiful hill. Many different parts of this resort are so well attached to the natural architecture of the hill that helps it in reducing wastage of energy. It uses rainwater for its needs and recycles its waste. This way it minimizes its carbon emission.
Lapa Rios Ecolodge of Costa Rica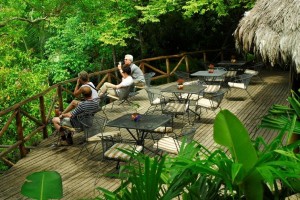 This eco friendly hotel has taken a unique green initiative of its own. The land of Costa Rica suffers from illegal hunting of wild animals. So the hotel has pledged to protect the surrounding natural environment from poachers. This is not the only thing they do for sustainability. They use solar power whenever and wherever possible and use eco friendly lighting. They also conserve and recycle water.
Earthship Rentals located in New Mexico, USA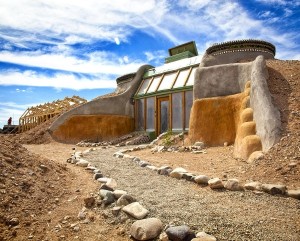 This hotel has taken sustainability to its new heights. The hotel has been made completely from recycled materials like recycled glass, rubber, etc. It is located on the Sangre da Cristo Mountains where it has been designed in such a way that it looks like a natural part of the mountain. The serene environment around it is so peaceful that you feel like being in a completely different world. It has adopted common sustainability measures like rainwater harvesting and use of solar panels. But it does not compromise with comfort and provides T.V.s and wi-fi in the campus along with the peaceful environment.