The goodness of lemons
Lemon has always been a common citrus fruit that we use almost every day. Be it for a glass of lemonade or a lemon meringue pie, lemon is a household item found in every home around the world. Lemon being so easily available and costing so less, we tend to underestimate its power over the […]
2014/05/06 7:09 PM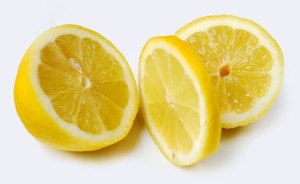 Lemon has always been a common citrus fruit that we use almost every day. Be it for a glass of lemonade or a lemon meringue pie, lemon is a household item found in every home around the world. Lemon being so easily available and costing so less, we tend to underestimate its power over the human body. But the reality is that it has always been around to help us in various body ailments. It is a wondrous fruit with many beneficial properties. Lemon is rich in nutrients like vitamin C, potassium, calcium, phosphorous, flavonoids, iron, pectin fibre to name a few. Its medicinal and therapeutic values are endless.
The ancient system of ayurveda had bestowed lemon with various medicinal properties. It has been a familiar fruit used in beauty and healing of the mind and body. It contributes much to our health and well-being. Here are some health benefits that lemon provides us-
Since ancient times, lemon has been used for various skin ailments like acne, pigmentation, dark patches and eczema. Lemon is a natural bleaching agent which gets rids of dark spots and patches effectively. It is very mild bleach that doesn't harm the skin in any way. Rich in vitamin C, lemon is good for acne as well. It has skin regenerating properties which work wonders for acne scars. Lemon essential oil can also be used to treat eczema. For any form of skin discolouration, a few drops of lemon are all it takes.
Lemon has been known to fight dandruff successfully. Lemon is a natural ph balancer, so if you have an itchy scalp full of dandruff, there is no better remedy than lemon juice. The citric acid in the lemon penetrates into the hair follicles and regenerates the scalp. Massage a few drops of lemon juice on the scalp and wash it after ten minutes. See a difference from the first wash itself. Lemon drops can also be added to warm coconut oil for a good head massage.
Lemon has always been associated with weight loss. Having a glass of warm water in the morning infused with lemon drops is known to shed excess weight from the body and fight obesity.
Lemon is a good detoxifier. A very popular detox remedy is mixing water with lemon juice and cayenne pepper. Having it throughout the day flushes out toxins from the body, also aiding in weight loss.        
A very effective common cold remedy is having a cup of warm water mixed with lemon juice and one teaspoon of honey. Lemon maintains the body's immune system very well. Gargling warm water infused with lemon juice can fight infections in the throat, including tonsillitis.
Since lemon is rich in potassium, it is often recommended for heart patients.
Lemon aids in digestion and regulates bowel movement. So a glass of warm water with lemon juice first thing in the morning gives you a clear stomach in no time.
Lemon maintains the body's ph level due to its alkalizing effect.
Lemon is a good antiseptic with antibacterial properties used in destroying bacteria of many diseases like typhoid or malaria. The pectin fibre is good for the colon and liver.
Lemon essential oil works wonders for insect or bug bites and for calluses on the skin. Just massage the affected area with lemon oil for instant relief.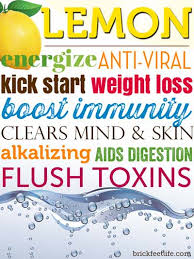 Lemon has often been used to treat serious diseases like Parkinson's disease and scurvy. Studies also suggest that lemon can help dissolve kidney and gall stones. In ancient medicine, lemon was an active ingredient to cure such diseases. It is even being used today. Its ability to dissolve uric acid can help eliminate pain or inflammation in the joints of the body. Hence it can help cure arthritis. In addition, the pectin helps lower cholesterol.
Lemon is useful in treating hypertension and high blood pressure.
The bioflavonoid contained in lemon has the power to strengthen blood vessels. So conditions like varicose veins can be treated by rubbing lemon oil on the affected area every day. Moreover, internal haemorrhage can be prevented due to this property.
Because of its vitamin A content, lemon is good for the eyes as well.
Lemon not only helps prevent diseases and cure ailments, but also has a calm and relaxing effect on the body. When consumed every day, lemon is known to reduce anxiety, tension and fatigue. It cures sleep disorders too. That is the reason why lemon oil is as popular as a room freshener. It improves your overall mood, giving you better alertness and concentration.
With so many benefits attached to it, it is no mystery why lemons are so popular across the globe. We don't realise it but we can't survive without lemons in our life. It is one of the healthiest fruits known to man. If you are not a fan of lemon, the above mentioned health benefits are sure to change your mind. So include lemons in your diet as much as you can. They are cheap and readily available in local markets. You can even plant your own lemon tree. Get healthy with lemons today.